We are leading exporters and manufacturers of Porta Cabins and many such other products. We are pleased to introduce all to our wide range of Porta Cabins with Customized designs and specifications. Porta Cabins are easy to relocate and move. We provide the Porta Cabins with complete interiors, furnishings, and fittings as required by our clients. Porta Cabins are mainly used at remote sites, construction sites, and other such places as a temporary office or set up. We are leading as we deliver what we promise and we promise only what we can deliver. High Quality and Modern Designs are our major keys in delivering our best range of products.

Porta Cabins can be designed to use as for Multipurpose Offices, Homes, Farmhouses, Sanitation Units, Accommodation Units, Labour Accommodations, toilet container, security cabin, cafe and restaurant and so on.

They are available in different sizes.
The technology that prefabrication buildings use is known as Light Gauge Steel Frame (LGSF) which is a steel-framed wall system made of cold-rolled load bearing. LGSF is an innovative and reliable construction material in the world that is strong and allows design flexibility enabling it to be the right choice for construction. This method of construction allows having an increased span, custom openings, curved walls and a variety of external architectural facade treatments, making it a versatile choice of construction material.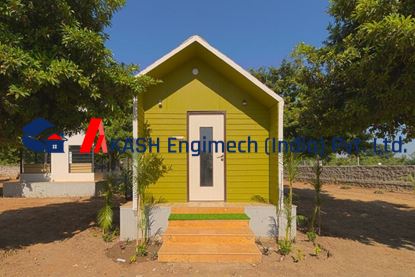 Container Hotel & Restaurants are almost made up of steel, a material that's known to be resistant to the harshest weather condition. We are manufacturers of Containerized Solutions. Aiming at providing the best quality and services to our clients, we target the World Market as per the International Standards with our specialized team of experts at work. We offer containers ready to use with all basic furniture and amenities. We build them as per your design idea and requirement.